29 Mar 2023
---
Subjects
Inside Benevolent
At BenevolentAI, we are committed to maintaining equal gender balance in our global team, and improving gender representation by recruiting, retaining and developing women leaders at all levels.
Last year, we set out a range of new actions to build on the progress made to that point, including implementing diversity and inclusion targets, specifically linked to our Product & Tech organisation, where we now ensure we have at least 50:50 gender balance at the interviewing stage to promote equal opportunities, and also use mixed interview panels and proactive sourcing to ensure we reach a diverse group of candidates.
The data speaks for itself: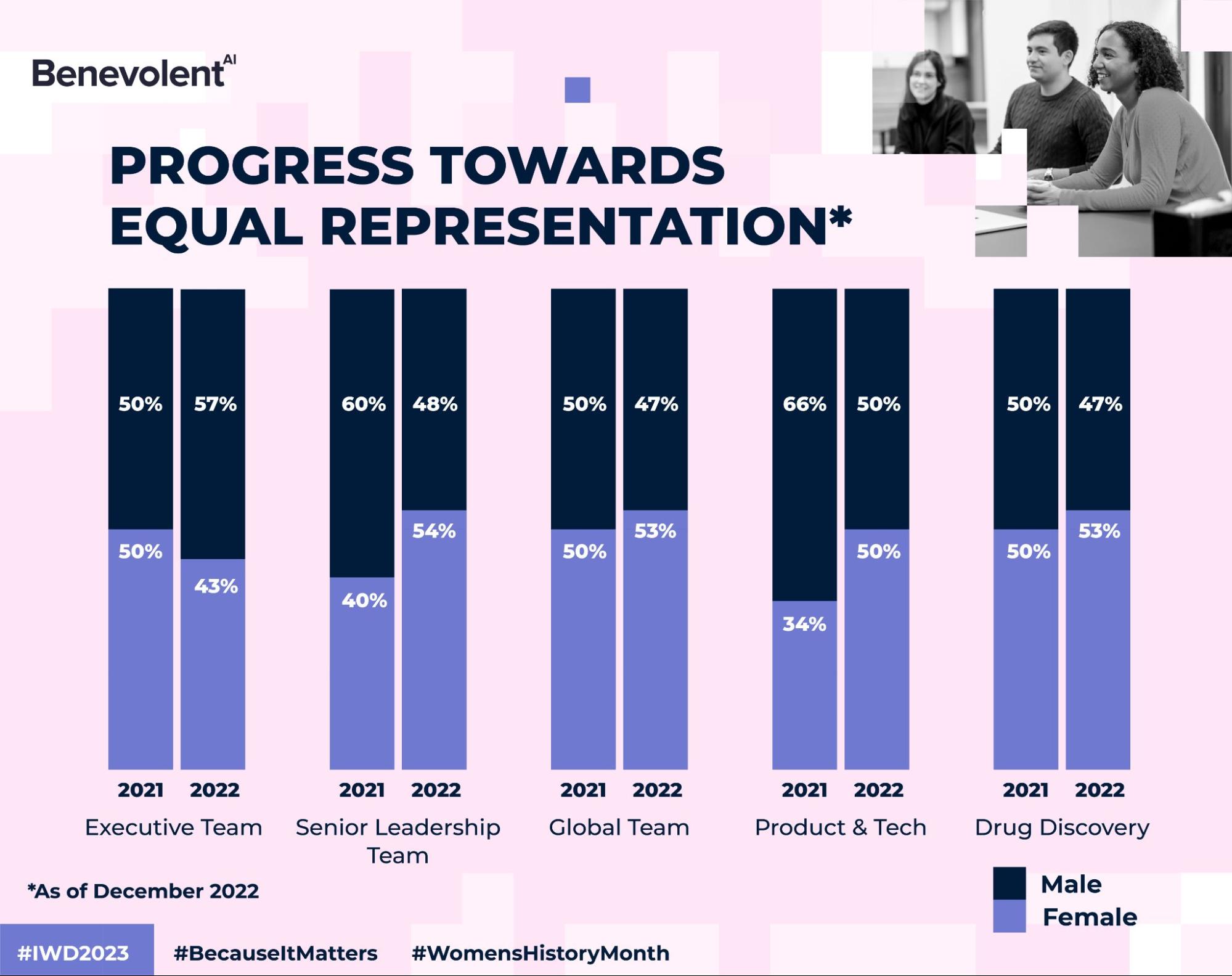 BenevolentAI's progress towards equal representation. We are committed to building a diverse team and inclusive culture, where everyone in our team feels welcomed, respected, supported, and valued.
After the recruitment stage, our focus shifts towards providing an inclusive, supportive environment that enables women to thrive. One way of doing this is by ensuring our leadership team captures the widest possible range of inclusive and empowering male and female role models, helping women to imagine a place for themselves in leadership and dismiss myths of what's possible.
So, to celebrate International Women's Day and Women's History Month, we invited five of BenevolentAI's newest inspiring women leaders to speak to the team about their experiences, successes and how they have overcome the barriers they've faced.
Q: Why does International Women's Day matter to you?
Sarah: This is my first time working at a company with such fantastic diversity, so many female role-models, peers and a female CEO. Throughout my earlier career, there were no real mentors around - I was lucky if there were any other women in the room at all! When I was 28, I was promoted into a Tech Leadership team of 15 men all in their 40s and 50s - it was really difficult to fit into that environment and prove to them I could operate in a role that was new to me.
Luckily, I had great mentors whose support was invaluable, particularly my boss at the time who made sure I had the support and help I needed to learn. Without them, I probably would have failed. Having a supportive leader to help you grow and learn is so important, and I'm passionate about making sure women who follow me will have the opportunity to get the support they need moving up their careers.
Atima: When I started out it was very male dominated, and not easy being taken seriously. I was put on a leadership programme, and in my 2nd year, I was asked to manage a project of ex-contractors who were old enough to be my Dad. It took 7 months to build trust, cultivate relationships and show them I wasn't a pushover. I proved my worth, did the work and showed that I could do it – but this is why International Women's Day is so important.
Nicola: I'm a mathematician by training, and women were always in short supply. However, having been surrounded by nerds and being a bit of a nerd myself, I never felt hindered by my gender. I was lucky enough to work for a department where gender didn't matter, as long as you had something to offer. It's amazing to see how far we've come - it wasn't that long ago where the role for women was to be a house-wife, as recently as my mother. I have a 12-year old daughter who is interested in a career in STEM. We've come a long way, and I'm happy that people continue to care deeply about making sure women have the same opportunities as men.
Q: What makes work & home commitments much harder?
Atima: One thing for me is the taboo talking about women's health issues. I suffer from Endometriosis, and for a very long time, I kept my illness hidden. I was worried people would think I'm weak. I was taking time out, or booking holiday leave when I shouldn't rather than just telling people what was going on. Then I had children, and I realised I wasn't being authentic or genuine. Prioritising your health and wellbeing is a balancing act and it's not easy. So my advice for men & women is to talk about chronic illnesses, as they can be very lonely places to be otherwise.
Nicola: When I was part time, I was meant to be working 4 day weeks but felt I needed to do 5 days to be equally recognised. I also missed out on opportunities, such as the opportunity to go on a secondment, which I wasn't able to do because of working part-time. Then you factor in child-care: by the time I've paid nursery fees, train-fees, and a dog-walker, I was making about £10 per day.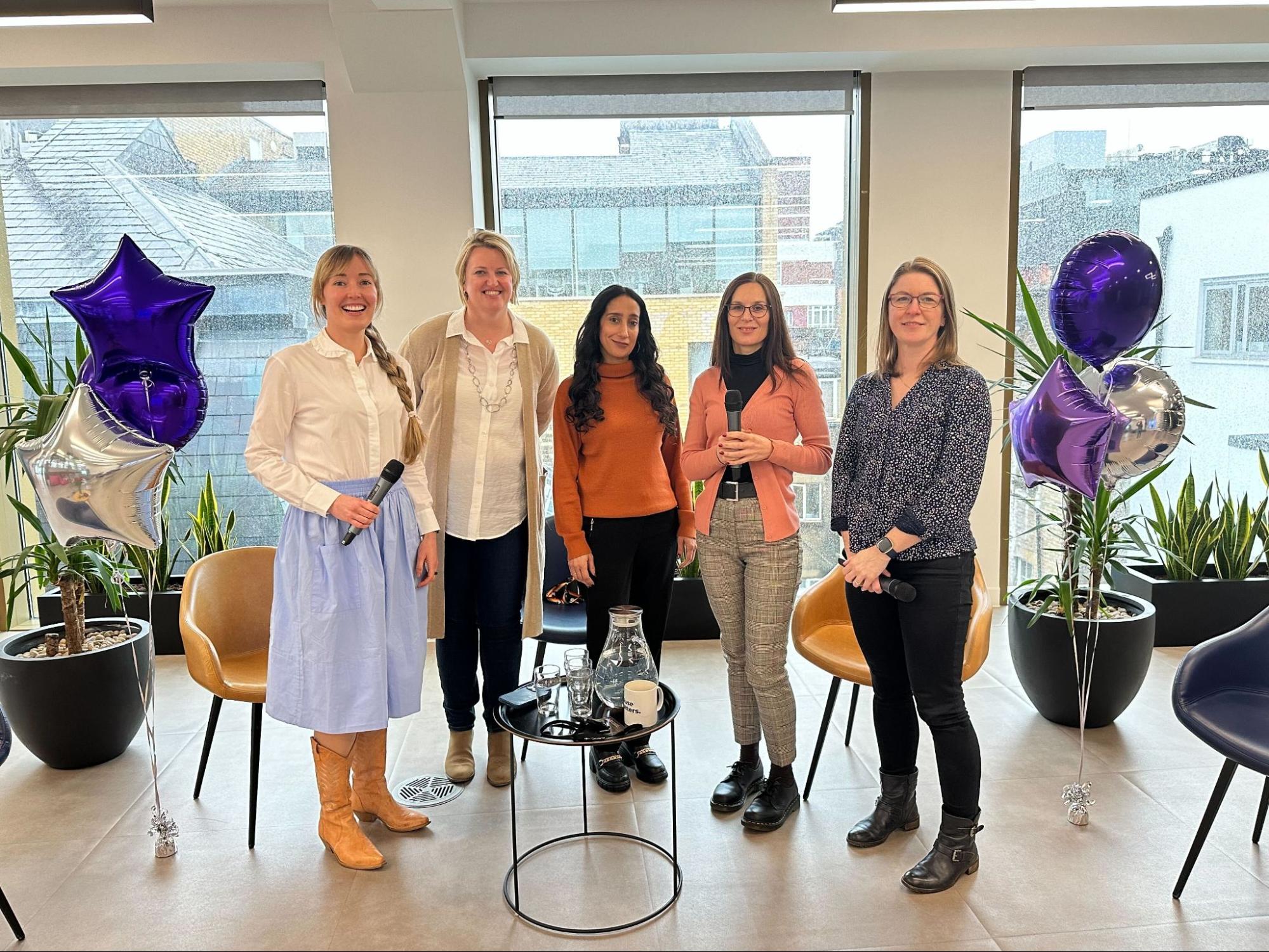 BenevolentAI's International Women's Day panel featuring women from our Senior Leadership Team. From left to right: Sarah Grey, VP of Product; Anna-Fullerton Batten, Chief People Officer; Atima Bhatnagar, VP of Ops and Quality; Nicola Richmond, VP of AI; Lisa Smith, Director of Drug Discovery.
Q: What can people do to increase support at work?
Lisa: It's not just management or 'the company' who can help, it's everyone. The change in paternity leave allowances has made a difference in expectations about who is going to take time-off for new-children. We shouldn't expect the person taking time off to always be the mother.
Nicola: We should proactively reach out as mentors and coaches. If you're seeing someone who is struggling, you can proactively reach out and offer your support. It's rewarding for the person offering as well, as you can learn from being the mentor. You don't need permission. Formal programmes can create a lack of engagement sometimes because they feel forced. In the moment it can be more impactful.
Q: What's the most important piece of advice you've been given?
Lisa: Concentrate on what you enjoy and the things you do well. ​​ In the middle of your career, you may feel pressure to diversify or do what others are doing. But be confident in knowing that you are good at what you do.
Atima: A male manager at GSK once told me to not let 'them' change you. He was referring to a culture where women or minorities often adapt themselves to fit in. But you'll get much further and be much happier if you stay true to yourself.
Sarah: Get comfortable with feeling uncomfortable. I used to get really worried about things I wasn't good at and stepping out of my comfort zone to learn new things. Just let go and don't worry, and focus on practising your craft.
Nicola: Acknowledge that everyone has a different way of thinking. Women sometimes have a tendency to not fight for a promotion unless they tick every single box. You need to just play to your strengths, show a willingness to learn and remember, you don't need to tick every box.
Q: Is there anyone in your career who inspires you?
Sarah: At BenevolentAI, we have 50% women for the Product and Tech roles, which I've never seen for any other organisation I've worked for. When I first joined, I was so inspired to learn that this was an intentional part of Danny (Daniel Neil, CTO) and Joanna's (Joanna Shields, CEO) strategy: even though it's harder, takes longer and often costs more. They saw the value, took the effort and made the change, and that was a really inspirational mission that I've not seen before.
Atima: When I was going through the interview process, I looked up Joanna and I was so excited to come to a company where I could get exposure to a female leader, someone who has gone through such a successful career in tech. I've not been able to do that in the same way in other companies - for me that was massively inspiring.
Nicola: I'm 100% in agreement with you both - Danny and Joanna are incredible leaders. It's not just their achievements, it's also their manner, personality, humility and modesty. Those are incredible traits to have in combination. More generally, Benevolent is full of really smart and very humble people, and that's why I love working here.
Lisa: I also Googled who was in charge before joining. I had worked with BenevolentAI's CSO, Anne Phelan before, and it struck me how she had managed to earn the respect of everyone so quickly. She's a wonderful person to work for and is incredibly knowledgeable - I find her massively inspirational.
Q: What advice would you give your younger self?
Lisa: To the younger mouse-like girl who was struggling with confidence - stop worrying so much about what others think of you and just be yourself!
Atima: Stop thinking about what others are thinking and worry about what you are doing for yourself.
Nicola: Follow your passions and find champions that believe in you!

---
Back to blog post and videos