18 Apr 2023
---
Subjects
Inside Benevolent
Welcome to the latest edition of our #BenevolentStory series. This month we caught up with Richard Sherhod, Daniela Dolciami and Rob Ziolek in our Chemoinformatics & Computational Chemistry team, who are responsible for devising and applying state of the art computer-aided drug design techniques to advance our small molecule drug discovery programmes.
Dive in to learn about their work, culture, career paths and everything else that makes up life at BenevolentAI.
Tell us about the work you do at BenevolentAI, and what your typical workday looks like?
Richard Sherhod - I head up the Cheminformatics & Computational Chemistry team within Drug Discovery Chemistry, which involves coordinating, supporting and guiding our talented cheminformaticians and computational chemists to deliver our small molecule drug discovery portfolio, working closely with the medicinal chemists. This part of my role essentially involves ensuring we have the right experts working on the right projects, and that they are equipped with the right tools to best do their job.

I also take an active role in the delivery of our drug discovery programmes, particularly during the initial phases, during which I help to develop a computer-aided drug design approach that maximises the chances of success of the Hit ID & Expansion campaigns. Finally, I collaborate with scientific and engineering teams from across the company to guide them on the best use of chemical data and assist in the design of chemistry-related tools and infrastructure.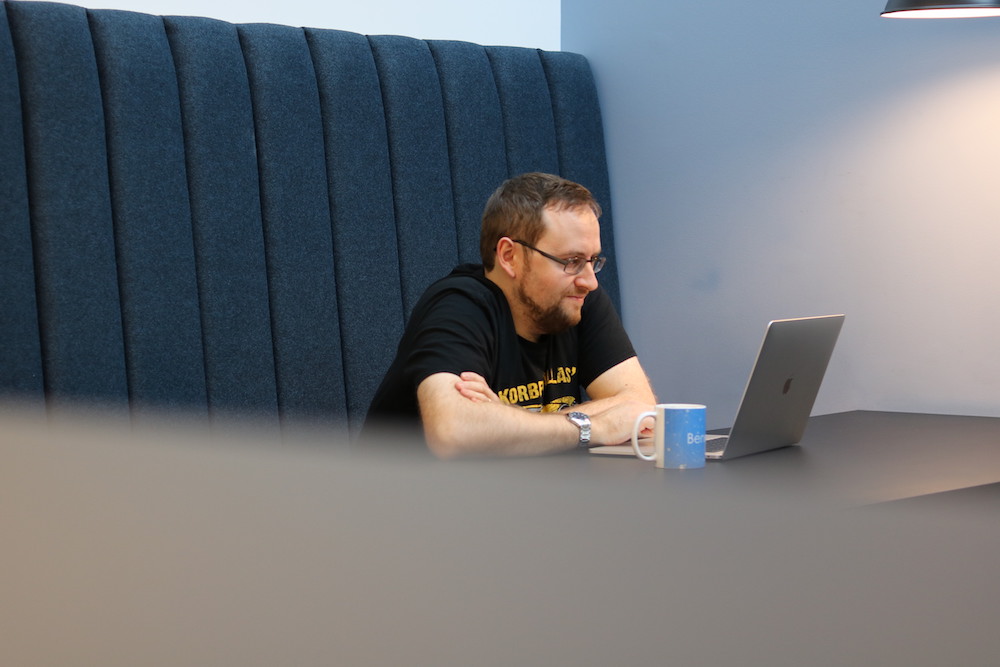 Caption: Richard at work in our London office, where his role is to lead the Cheminformatics & Computational Chemistry team within Drug Discovery Chemistry.
Daniela Dolciami - As a computational chemist, my work consists mainly of building and testing models for our small molecules drug discovery programmes. In supporting our portfolio projects, I attend project meetings where we have the chance to discuss results and next steps with chemists and biologists. I also collaborate with other Cheminformatics & Computational Chemistry team members on the development of new tools or techniques that enable us to speed up or automate processes, and help us stay up-to-date with state-of-the art techniques. I have recently been working closely with Rob to build a new internal screening library, which has been a great opportunity to share our knowledge and learn from each other.
Rob Ziolek - A large part of my time is spent working on cheminformatics and computational chemistry problems by writing code, reviewing the literature and speaking with my colleagues. Our team is really collaborative, and contains a broad range of experiences and expertise. I typically attend project meetings with the broader Drug Discovery team to identify areas where chemoinformatics and computational chemistry approaches can provide new insights. Projects vary and are always great learning experiences. The project I've been working on with Daniela has been a particularly great opportunity to hone my technical skills and learn about more subtle aspects of the drug discovery process.
What do you enjoy most about working at BenevolentAI?

Daniela - I most enjoy the collaborative environment; we routinely collaborate with other computational chemists and cheminformaticians, as well as with Medicinal Chemistry, Bioinformatics, In Vitro and In Vivo Biology, Toxicology and Logistics teams, engineers, AI scientists and data scientists. There are also so many opportunities for development, both through dedicated 'personal development time', and during project meetings, where I'm exposed to so many new concepts, and to different technical problems and solutions.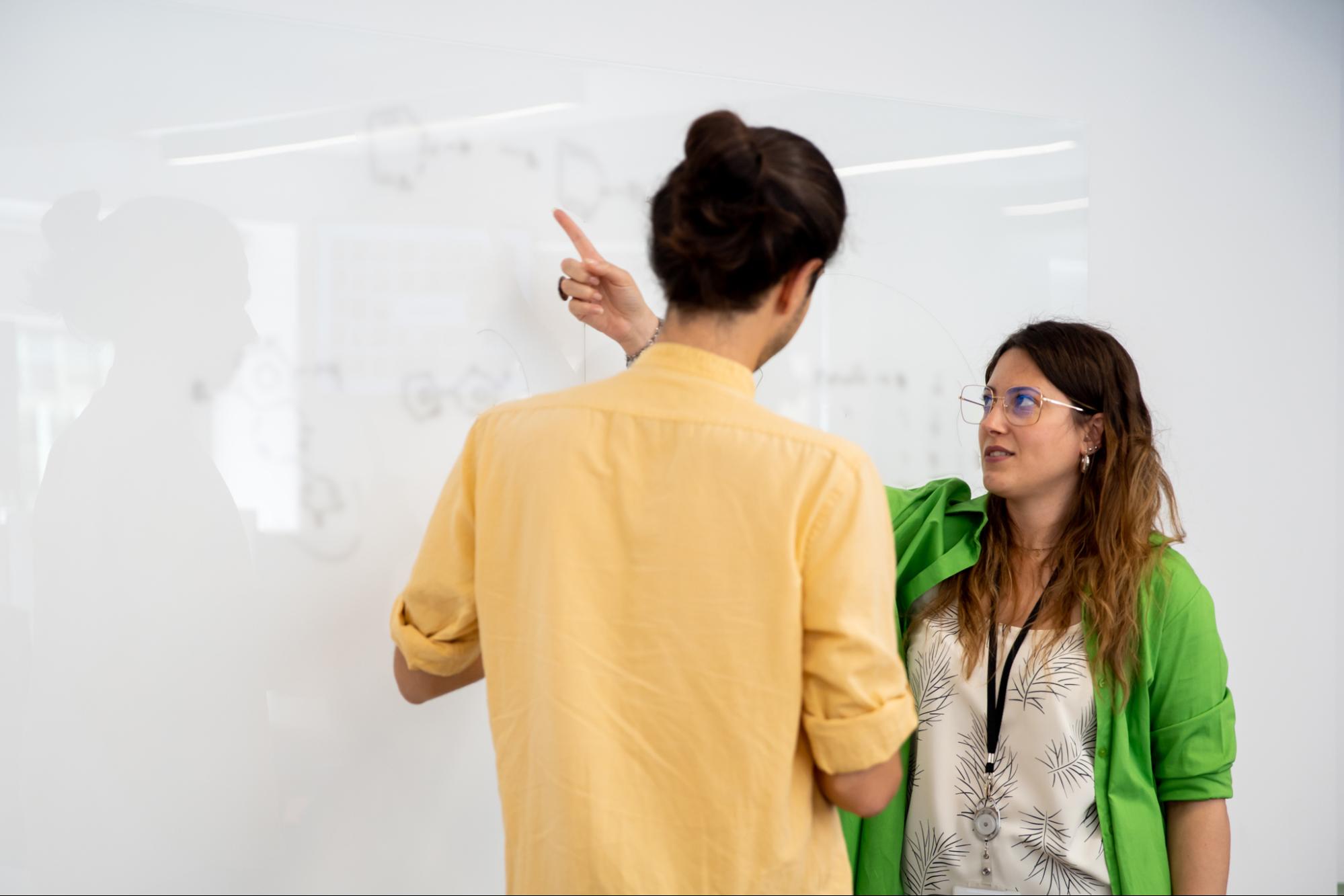 Caption: Daniela working together with a colleague on a problem: "One of my favourite things about BenevolentAI is the opportunity to collaborate on the development of tools which enable us to speed up or automate processes."

What about working at Benevolent have you found most surprising?
Rob - The working environment is really collaborative: people are always happy to make time to discuss new approaches and how to best implement them in drug discovery programmes. A great deal of value is placed on the research undertaken by the team in developing new ideas into tools to support drug discovery.
What opportunities are there to innovate?

Richard - We are continually improving and expanding our tools, techniques and approaches to computer-aided drug design that may help us deliver positive outcomes in our programmes. For example, we developed new ways of applying existing technologies for compound ideation, which has significantly contributed toward successful development of candidate drugs. We have also designed novel technologies within the field of medicinal chemistry, such as our recently published Mixture of Experts machine learning model architecture Glolloc, which combines the generalisability of global models with the specificity of local models.
How did the recruitment process go for you?
Rob - Throughout the process, I was given the opportunity to show how my skills and experience could be translated into the drug discovery arena. I got a chance to meet lots of different people at BenevolentAI, and gain an understanding of both the role and how I could fit into the broader team. I actually found the interview process surprisingly enjoyable.
How did you prepare for your BenevolentAI interviews?

Daniela - I firstly went through the BenevolentAI website, reading news and posts and trying to prepare a list of questions to ask, both related to practical and scientific aspects. I generally tried to carefully follow the instructions I was given by the talent acquisition team, which I found very useful. For example, being aware of the interview panel members and their scientific backgrounds was key in focussing on specific aspects of my previous work to show in my presentation.
Any tips for aspiring BenevolentAI employees?

Rob - Always apply if you're passionate about the role even if you don't think your skills and experience are exactly what is discussed in the job description. We take a holistic approach to recruitment and we're always looking for people who can bring new capabilities to our team.
Richard - We're always on the lookout for talented cheminformaticians and computational chemists. Even if we don't currently have any open positions, I'd be happy to hear from anyone who is interested in joining us, and I'll be sure to keep you in mind for future roles - feel free to send me a message on LinkedIn!

At BenevolentAI, we build and use technology to tackle one of humanity's greatest challenges: discovering new and better ways to treat disease. Want to help us create a healthier future for patients everywhere? Explore our career opportunities.
For more #BenevolentStories and culture content, visit our Culture Blog.

---
Back to blog post and videos