Delivering on our strategic plan
Merck collaboration, lead asset enters clinic, Knowledge tools in user testing and leadership changes
London, UK, 21 September 2023: BenevolentAI (Euronext Amsterdam: BAI), a leader in applying advanced AI to accelerate biopharma drug discovery, announces its unaudited interim results for the six months ended 30 June 2023.
Dr. François Nader, Chair and Acting CEO of BenevolentAI, said:
"Since the Strategic Review in May we have made significant progress in executing our strategic plan including signing our new collaboration with Merck yesterday. We have also progressed our lead asset into the clinic and our knowledge exploration tools have moved into an evaluation stage with potential customers. We committed in May to right-sizing the business which has resulted in an extension of our cash runway to at least mid-2025.
"All of this would not have been possible if it had not been for the hard work and dedication of all those at Benevolent AI. In particular, I want to thank Joanna for her commitment over the last five years to build the business into what it is today. We wish her all the very best in her future endeavours. With assuming the role of acting CEO today, I commit to building upon these foundations as we continue to grow the business to maximise the potential that our advanced AI platform has to offer. I am also pleased that we have been able to attract to the Company a strategic Chief Financial Officer and an experienced Chief Revenue Officer who will focus on revenue growth opportunities.
"In this Interim statement we provide an update on the evolution of the business, where we highlight how the Benevolent PlatformTM drives three revenue streams; End-to-End discovery collaborations, Clinical and preclinical pipeline and Knowledge Exploration Tools. With the investment we have made in our platform over many years, combined with the acceleration in interest in the AI field by Biopharma companies, I believe we are at an inflection point in the adoption of AI in research and drug discovery and we are well placed to benefit from this. Success will not only enable us to deliver significant financial returns for shareholders but also, most importantly, to deliver on our mission of bringing life-changing medicines to patients"
Operational Highlights (including post period)
Corporate and organisation development: Leadership team changes
As announced separately, today, BAI chair, Dr. François Nader assumes the role of Acting CEO and Joanna Shields has stepped down as CEO to pursue other endeavours. Joanna will remain a strategic advisor to the Company. A search for a successor has commenced.
In early September, Catherine Isted was appointed Chief Financial Officer. Catherine is an experienced strategic finance professional and chartered accountant with over 25 years within the life sciences industry.
Christina Busmalis was appointed Chief Revenue Officer. Christina will have responsibility for leveraging BenevolentAI's PlatformTM to maximise revenue generation, including partnerships, business development and our tech suite products go-to-market strategies.
In May, Marcello Damiani was appointed to the Board as an Independent Non-Executive Director, and in June, Dr. Jackie Hunter retired from the Board as a Non-Executive Director.
Merck: New strategic collaboration
In September, a collaboration with Merck, was signed to deliver novel drug candidates, initially for three targets in oncology, neurology and immunology.
The agreement includes payments to BenevolentAI of up to $594 million, consisting of a low double-digit million dollar upfront payment on signing and then discovery, development and commercial milestones. Tiered 2 royalties will also be payable on net sales of any commercialised products.
AstraZeneca: Continues to progress
In May, AstraZeneca presented new preclinical data on an AI-generated target in idiopathic pulmonary fibrosis (IPF) identified in our collaboration at the ATS International Conference 2023 providing information on the biological validation of Serum Response Factor as a potential target for IPF.
AstraZeneca is now progressing four of the most promising targets out of the five initially selected into the AstraZeneca portfolio in chronic kidney disease (CKD) and IPF.
In addition, good progress is being made toward further target selection in Heart Failure and Systemic Lupus Erythematosus (SLE) use cases following the extension in January 2022 of the collaboration for a further 3 years to include these indications.
Each novel target selected by AstraZeneca has the potential to generate significant milestones and royalties for BenevolentAI.
Clinical and preclinical pipeline: Lead asset enters the clinic
Following a strategic review of the pipeline, in May, the Company confirmed five of the Group's most advanced and high-potential clinical and preclinical assets are being progressed to their next inflection points.
In August, BEN-8744, an oral phosphodiesterase 10 (PDE10) inhibitor for the treatment of ulcerative colitis (UC) initiated a Phase I clinical study with topline data readout expected Q1 2024.
In June, the Company announced that preclinical candidate BEN-34712, an oral, potent and selective brain penetrant RARɑβ (retinoic acid receptor alpha beta) based agonist, for the treatment of amyotrophic lateral sclerosis (ALS) will progress into investigational new drug (IND)-enabling studies.
BEN-28010, a CHK1 inhibitor for Glioblastoma Multiforme (GBM) and metastatic brain tumours, remains on track and is expected to be IND-ready by Q4 2023.
As announced in May, the Company confirmed there would be no further investment in the BEN-2293 asset following its Phase IIa study results in April earlier in the year.
Knowledge exploration products: Evaluation with potential customers underway
New AI product suite enables scientists to make higher-confidence decisions and improve R&D productivity.
Initial product development substantially completed. • User testing underway including with potential customers and partners.
Financial Highlights: Cash runway extends to at least Mid 2025
Revenue increase of 9% from £4.8 million (H1 2022) to £5.3 million driven by extended AstraZeneca collaboration.
Normalised research and development spend reduction of 5% from £34.7 million (H1 2022) to £33.0 million, reflecting continued investment in the pipeline and innovation of the Benevolent PlatformTM.
Normalised operating loss reduction of 21% from £51.4 million (H1 2022) to £40.6 million.
Operating cash flow before changes in working capital reduced by 22% from £48.4 million (H1 2022) to £37.9 million.
Cash, cash equivalent, and short-term deposits reduced by 35% from £130.2 million (FY 2022) to £84.3 million with the cash runway extended to at least Mid 2025.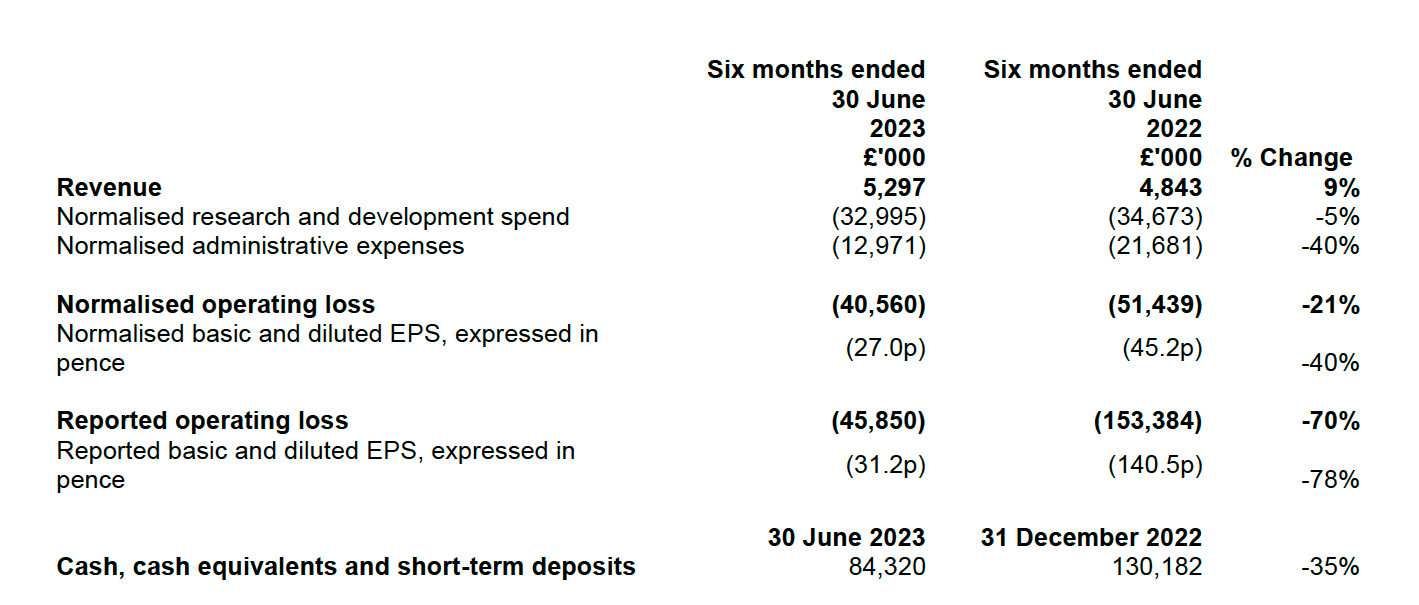 Analyst and Investor briefing
Management will host an analyst briefing at 9.00 am this morning, 21 September 2023, at the offices of FTI Consulting (200 Aldersgate, Aldersgate Street, London, EC1A 4HD, United Kingdom). To register your interest in attending either in person or virtually, analysts should contact FTI Consulting at BenevolentAI@fticonsulting.com. A recording of the webcast will be made available in the investor section of the Company's website shortly afterwards.
Enquiries:
Investors:
Fleur Wood – VP Investor Relations
fleur.wood@benevolent.ai
investors@benevolent.ai
T: +44(0) 203 781 9360
Media:
Rajin Kang - VP Communications
rajin.kang@benevolent.ai
T: +44(0) 203 781 9360
FTI Consulting:
Ben Atwell/Simon Conway/Victoria Foster Mitchell
T: +44 203 727 1000
BenevolentAI@fticonsulting.com
About BenevolentAI
BenevolentAI (AMS: BAI) is a leading, clinical-stage AI-enabled drug discovery and development company listed on the Euronext Amsterdam stock exchange. Through the combined capabilities of this AI platform, its scientific expertise, and wet-lab facilities, BenevolentAI is well-positioned to deliver novel drug candidates with a higher probability of clinical success than those developed using traditional methods. The Benevolent Platform™ powers the Company's in-house drug pipeline and supports successful collaborations with AstraZeneca, as well as leading research and charitable institutions.
Forward-looking Statements
This release may contain forward-looking statements. Forward-looking statements are statements that are not historical facts and may be identified by words such as "plans", "targets", "aims", "believes", "expects", "anticipates", "intends", "estimates", "will", "may", "should" and similar expressions. Forward-looking statements include statements regarding objectives, goals, strategies, outlook and growth prospects; future plans, events or performance and potential for future growth; economic outlook and industry trends; developments in BenevolentAI's markets; the impact of regulatory initiatives; and/or the strength of BenevolentAI's competitors. These forward-looking statements reflect, at the time made, BenevolentAI's beliefs, intentions and current targets/aims. Forward-looking statements involve risks and uncertainties because they relate to events and depend on circumstances that may or may not occur in the future. The forward-looking statements in this release are based upon various assumptions based on, without limitation, management's examination of historical operating trends, data contained in BenevolentAI's records, and third-party data. Although BenevolentAI believes these assumptions were reasonable when made, these assumptions are inherently subject to significant known and unknown risks, uncertainties, contingencies and other important factors which are difficult or impossible to predict and are beyond BenevolentAI's control. Forward-looking statements are not guarantees of future performance, and such risks, uncertainties, contingencies and other important factors could cause the actual outcomes and the results of operations, financial condition and liquidity of BenevolentAI or the industry to differ materially from those results expressed or implied by such forward-looking statements. The forward-looking statements speak only as of the date of this release. No representation or warranty is made that any of these forward-looking statements or forecasts will come to pass or that any forecast result will be achieved.

---
Back to press releases and in the media